Okay, so remember I said I would be back with details of what I was auctioning for the Flood Relief Appeal?
I am auctioning 3 little hand-dyed, handspun, handknitted children's caps.
First is "Autumn" - 100% dyed Australian wool with a wool felt and button embellishment.
Second is "Leaf" - Alpaca and wool blend with a needlefelted leaf.
Third is "Strawberries and Cream" - dyed Australian wool with slivers of mohair.
Auction is open now and will close on January 24th. Just leave a comment with the name of the hat you want and your bid. For more details and to look at all the awesome crafty things being auctioned on other blogs please click on the Flood Relief button.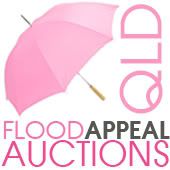 Any questions please leave a comment.
Also happy to spin some 100g hand-dyed wool skeins in your choice of colourways for the highest donation above $22 AUS.
I could probably also be convinced to knit these caps in custom order colourways for the Flood Appeal too (if you twist my arm enough and give me a bit of time!)
Just desperate to help out a good cause.
Keep smiling,
Nell